Chapter 3: 2014 to today
Molitor re-opened its doors on 19 May 2014.
The Paris City Council awarded operating rights for the building to Colony Capita and the AccorHotels Group for duration of 54 years.
Molitor is now much more than just a swimming pool.
It is a hotel with 124 rooms and suites, all designed by the architect Jean-Philippe Nuel as genuine cocoons of peace and calm, he also managed the redecoration of the Hôtel Dieu in Marseille, the Hôtel Mélia at La Defense (Paris) and the Cures Marines in Trouville. The rooms that surround the outdoor pool give guests the impression that Molitor is a huge cruise-ship.
It is also a restaurant, a bar, a rooftop open to everyone, proposing seasonal dishes made with fresh produce by the resident Chef and his crew. Pastry creations are a pleasure for both eyes and taste-buds.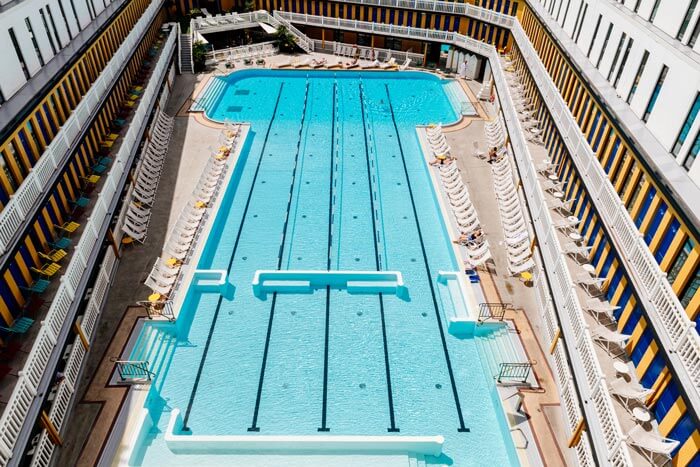 There is also the 1,700m² Spa by Clarins which in addition to the private treatment rooms, has its own hammam, sauna, tea-room and reading room. The Molitor Club also proposes group sessions and year-round cultural events in addition to its many sporting facilities.
And finally, visitors can discover the Street Artwork which was such an integral part of Molitor's history, presented in the cabins of curiosity, on the walls of the hotel lobby or hidden in obscure corridor corners. The artists that knew Molitor during its abandoned period have been invited to return and leave their mark on the new buildings as an echo of the graffiti which covered its walls at the time.
When you enter one of the cabins surrounding the indoor pool you are plunged into the world of Hopare, Katre, Jace, Artiste Ouvrier, Mademoiselle Maurice, Kouka, Bradley Theodore, Mosko & Associés, Balder, Indie 184, Fred Calmets, Shuck One amongst many others.
Molitor's history continues to be written each day...
Today Molitor has 165 employees, 41% of whom are women and a Management Committee made up of 60% women.
The 2021 professional equality index for the year 2020 is 99 out of 100.